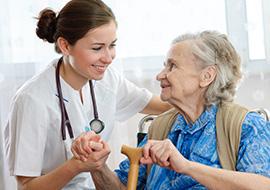 This meeting will draw leading research teams in the field to present their experiences and findings, and to engage in dialogue with participants.
It will allow participants, particularly those in specialist training, to display a poster on their own innovations in service development for care home residents. A certificate will be awarded for the best poster(s).
To submit a poster, please email an abstract (maximum 500 words) to geriatrics@rsm.ac.uk by Thursday 13 April 2017.
The aim is to present the latest evidence about best ways for the NHS, care homes and local authorities to work together to provide optimal medical care for care home residents.
After attending this conference participants will
Know how to improve the quality of medical care for care home residents 
Introduce improvement to their own services
Appreciate the advantages (and difficulties) of working across disciplines in the context of working with care home staff and residents

Bursary places:
The Section is also offering 15 bursary places (5 x student, 5 x trainee, 5 x AHP) at this meeting. To submit an application, please email a brief explanation of why you would like to attend to geriatrics@rsm.ac.uk
our speakers in the media
Ms Victoria Elliot 

Principal Consultant for Research and Innovation, The Orders of St John Care Trust

 


Nursing Times 

 

Professor Claire Goodman 

Professor of Health Care Research, Centre for Research in Primary and Community Care, University of Hertfordshire

 


 

Dr Adam Gordon 

Clinical Associate Professor in Medicine of Older People, University of Nottingham

 


BGS Blog 

 

Mr Michael Bowen 

Director of Research, College of Optometrists

 


 

Dr Ian Maidment

Senior Lecturer in Clinical Pharmacy, Aston University

 


MedicalXpress 

 

Professor Jill Manthorpe

Director, Social Care Workforce Research Unit and Professor of Social Work, King's College London and NIHR Senior Investigator Emeritus

 


 

Dr Eileen Burns

President, British Geriatrics Society

 


King's Fund